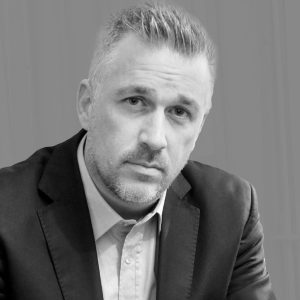 Eric Burns
Executive Director of Media & Public Relations
FORMER PRESIDENT OF MEDIA MATTERS FOR AMERICA (MMFA)
FORMER COMMUNICATIONS DIRECTOR FOR U.S. HOUSE OF REPRESENTATIVES COMMITTEE ON RULES
ADVISOR TO THEN TEXAS GOVERNOR, GEORGE W. BUSH ON MATTERS OF INTERNATIONAL PROTOCOL AND DIPLOMACY
Eric Burns is an American political strategist and media consultant with international experience on three continents. As the former president of Media Matters for America (MMFA), Eric pioneered the creation of a cutting-edge communications centre within the organization that yielded dramatic results for MMFA and has been used widely as the model for other progressive organizations since. Burns and his team achieved thousands of corrections from major media outlets and led numerous successful national media campaigns against hate-speech and misinformation. 
Eric has managed the successful design and launch of numerous innovative media projects and persuasion campaigns in the U.S. and abroad and has extensive experience working in coordination with the White House, the United States Congress, USAID, the National Democratic Institute (NDI), NATO and others. He has managed and consulted on numerous successful political campaigns in the United States and Europe. 
Burnes previously served on Capitol Hill in Washington D.C. as communications director and lead speech writer for the powerful U.S. House of Representatives Committee on Rules, and for many members of Congress from both New York and Texas. 
A respected national spokesperson and "on-air" strategist, Burns' work has been featured in the New York Times, The Washington Post, MSNBC, CNN, NPR, SiriusXM, Rolling Stone Magazine, BBC, Politico, Roll Call, The Hill Newspaper, Radio Free Europe, and many other domestic and international media outlets. 
Burns recently served as the senior strategist and advisor for the Macedonian Prime Minister Zoran Zaev and as primary consultant for the social democratic party in North Macedonia (SDSM). Burns was instrumental in helping guide the country into NATO and in advising the prime minister on effective governance strategies for 18 ministries. Notably, Eric worked with the Minister of Finance to help North Macedonia achieve investment grade status from the rating agencies in New York for the first time in the country's history. 
A former investment banker at Banc One Capital Markets (now JP Morgan Chase), Eric has extensive experience in the field of public and municipal finance and holds a degree in Economics from the University of Texas at Austin. Early in his career, Burns worked for then Governor of Texas, George W. Bush and the Texas Secretary of State on matters of international protocol and diplomacy.