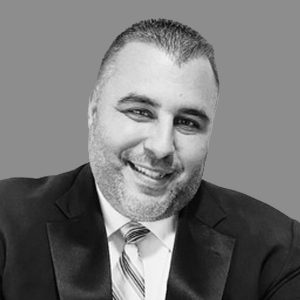 John Cataldi
Executive Director of Artificial Intelligence (A.I.) & Technology & Managing Director of Phoenix Global Broadcasting
FOUNDER OF THE WORLD'S FIRST PODCAST CREATED AND PRODUCED ENTIRELY BY A.I.
CEO OF FORWARD-THINKING TECH, A COMPANY DEVELOPING GROUNDBREAKING EDUCATIONAL TECHNOLOGY PROGRAMS, BRIDGING TRADITIONAL EDUCATION & A.I.
John Cataldi is an audio architect, AI content creator, Ed-Tech entrepreneur, and shares an incredible passion for education. John spent several years in the radio industry programming and imaging a major radio station in the Philadelphia market, with over 4 million active daily listeners. Additionally, John has taken his acumen in radio and created the premier radio station on Clubhouse, The House Radio, with an average of 150,000 listeners per active room.
With the emergence of generative AI, John created and produced the world's first podcast created and hosted entirely by AI, which has already reached 100,000 downloads in the first two months of its existence. As the Chief Audio Architect of Podcast AI, John is bridging the gap between human ingenuity and the limitless potential of artificial intelligence.
John holds the title of CEO of Forward-Thinking Tech, an educational technology firm that has developed the first all-encompassing suite for planning and education class trips, FieldTripMe. This platform empowers teachers and students with the ability to break down the barriers of their classroom walls and travel the world with comfort and ease while immersing themselves in pedagogically sound activities. FieldTripMe is the world's first platform to allow teachers to track students' GPS locations, test students' knowledge and ability, and teach them about every educational aspect of the trip.
An accomplished and award-winning educator, John has spent 17 years in the classrooms of some of the highest-performing high schools in New Jersey and in the United States. He has been awarded the Governor's Educator of the Year distinction from his current school district in 2022, and has previously been his district's recipient of the Princeton Distinguished Educator Award.
John's passion for working with adolescents has also spread to interscholastic athletics, as he has been named North Jersey's Tennis Coach of the Year in 2015, 2016 & 2017, following his team's numerous state and conference titles.
John is excited to bring his expertise in AI, generative AI and his passion for making the world a better, happier place to the team at Phoenix Global.