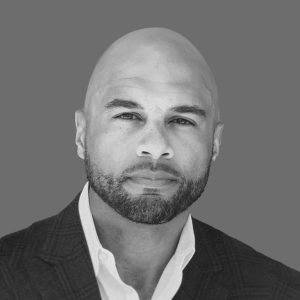 John Gilmore
Vice President of Marketing, Branding & Content Development
FORMER NFL FOOTBALL PLAYER (CHICAGO BEARS/TAMPA BAY BUCANEERS)
John Gilmore is an accomplished business executive and former NFL athlete with a powerful reputation as a leader, innovator, humanitarian, and team player. After a successful 10-year career in the NFL with the Chicago Bears, New Orleans Saints and Tampa Bay Buccaneers, John became Principal Partner at Encore Select, LLC., a manufacturer of sports apparel for major retailers and hot market sporting events.
Presently, John serves as the Founder and President of Brandthumb, a boutique marketing agency focused on building brands and developing innovative strategies to achieve outstanding results. Brandthumb connects clients to a robust network of marketing experts, business professionals, and influencers to drive brand recognition and loyalty.
John began his football career at The Pennsylvania State University, where he received a full athletic scholarship and graduated as a four-year Football Letterman. During his senior year, John was selected as team Captain and awarded the Hall Foundation Award, which honored him as the Nittany Lion's Outstanding Senior.
Since 2017, John has been the live pregame analyst for the Tampa Bay Buccaneers' radio network. He excels to this role, which includes researching weekly opponents, analyzing game film, and conducting interviews.
Recognized for his strong sense of social responsibility, John has received several awards including the NAACP Community Impact Award in 2010, and the Penn State Alumni Achievement award in 2012. John continually strives towards giving back to his community. He currently serves on the board of directors for Family Resources, a Florida-based nonprofit that provides crisis counseling, shelter, and a safe respite for runaway and homeless teens.
One of John's crowning achievements is his involvement in the creation and launch of the communication platform, AppreSHEation. AppreSHEation is purpose-driven intellectual property that was developed to influence the mindset of men. John believes that in order to change culture, we must first change our mentality. The logo AppreSHEation stands for respect, equality and – more than that, gratitude for women. Appreciation, a commonly used term, has been repurposed as AppreSHEation which has the potential to redefine how women are treated around the world.